In addition to the usual mashing procedures, the THIEMT Mashing Bath TMB enables you to perform individual mashing procedures. The standard programs Hartong and Congress, as described in MEBAK and EBC, are pre-installed; the addition of individual programs in unlimited quantity, is possible.
The TMB can optionally be operated via a modern touch-screen interface or with help of a standard browser. 2 versions are available: manual or automatic (TMB plus) water dosage. The TMB is ergonomically designed and is completely made of stainless steel.
Analysis
Congress and Hartong mashing procedures are standardized procedures for obtaining various analysis figures.
Congress procedure
Mashing during the course of a temperature program
Use of fine and coarse bruised grain
Determining of absolute extract content by means of the Plato chart. Furthermore, amongst other things determination of saccharification time (iodine standard), protein content, viscosity, pH-values. The difference between fine and coarse bruised grain allow conclusions to the cytolytic solution of the malt.
Hartong procedure
Mashing at constant temperature (20 °C, 45 °C, 65 °C or 80 °C)
Use of fine bruised grain
Determination of a ratio (VZ) = percental ratio of the maximum extract yield at the chosen temperature. Conclusions to enzyme activity, protein dilution and the mashing activity per se are possible.
In addition, there are several individual mashing procedures for various analyses, such as the lautering test.
The Mashing Bath TMB
The Mashing Bath TMB has been designed by THIEMT to support standardized programs and additionally any number of individual procedures.
Housing design
Completely made of stainless steel. The standard version can hold up to 8 samples.
The housing is designed around ergonomic aspects: The bent upper part makes the mashing beakers and stirrers easier to see and more accessible.
Functions
Additional to the standard mashing procedures Congress and Hartong, it is possible to create individual procedures spanning a temperature range from 20 °C up to 80 °C (temperatures below 20 °C require a separate water chiller).
The stirring speed is programmable; as well as the automated water dosage in case of the TMB plus version.
The waterbath is automatically heated by integrated heating elements. Automatically regulated inflow of fresh water is used to cool the waterbath down. If temperatures below the fresh water temperature are needed, a separate water chiller can be used, such as special cooling water baths or recirculating coolers.
Operation
The mashing bath is operated via the integrated touch panel. Alternatively, the TMB can be controlled remotely via PC without requiring any special software.
Direct selection of 6 procedures with individually configurable quick-select buttons.
5 pre-installed standard procedures (Congress and Hartong)
Alternative color schemes for barrier-free operation
Versions
The mashing bath is available in 2 standard versions:
TMB eco
TMB plus with automatic water dosing
Operation
The mashing bath is equipped with a touch screen that is used to control all functions of the device.
Pre-installed standard programs:

Congress mashing precedure
Hartong VZ20
Hartong VZ45
Hartong VZ65
Hartong VZ80

Graphical evaluation of the temperature profile
6 individually configurable quick-select buttons; any number of programs can be operated manually
User-defined programs (based on an existing program or from scratch)

Adjustment of the temperature and time progression
Adjustment of the stirring speed
Adjustment of the water dosing (TMB plus)
Setting an alarm signal

Free configuration by the user

Calibration and temperature offset
Appearance of the user surface
Performance in case of an interruption of the electrical power supply
Many other adjustments
Benefits
Characteristics and benefits of the mahsing bath TMB:
High bath recirculation = temperature homogeneity in all sample beakers
Individual programming
Optional automatic water dosing
Wide range of configuration options
Recovery after mains outage
Housing completely made of stainless steel
Technical details
| Technical details TMB | |
| --- | --- |
| Sample beakers | 8 pieces, 600 ml each |
| Temperature range | up to 80 °C |
| Temperature consistency | ± 0.1 K |
| Heating rate | 1 K/min |
| Agitator speed | up to 200 rpm |
| Water dosage amount1 | 50/100 ml |
| Electrical connection values | |
| Voltage, frequency | 220–240 V AC, 50/60 Hz |
| Heating capacity | 3 kW |
| Water connection | |
| Water intake | 1/4" DN9 |
| Water outlet | 1/4" DN9 |
| Water overflow | 1" DN32 |
| Dimensions | |
| Housing | 523×683×515 (B×H×T in mm) |
| Depth incl. water connectors | 595 mm |
| Weight | 56 kg |
| Interfaces | |
| PC interface | Ethernet |
| Interface for data carriers | USB |
1: For TMB eco, amount per glass cuvette
Technical drawings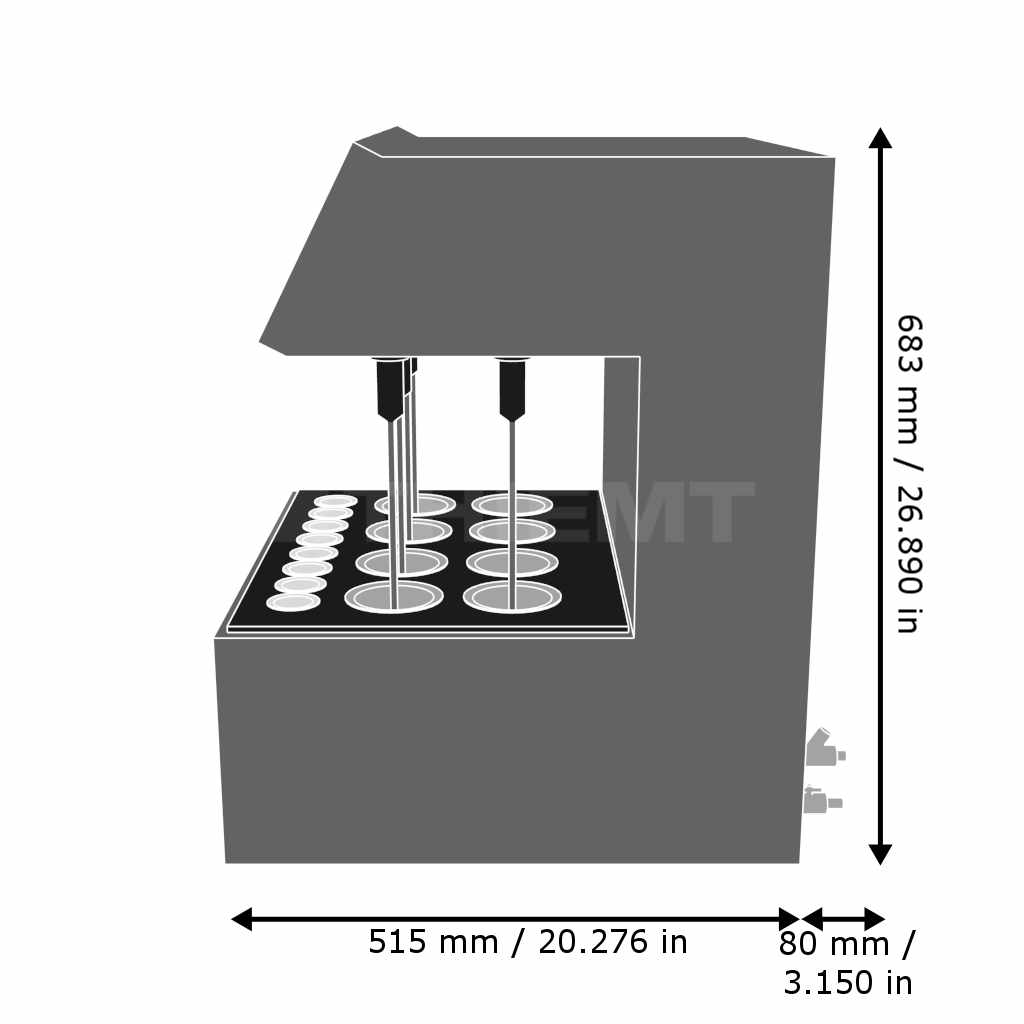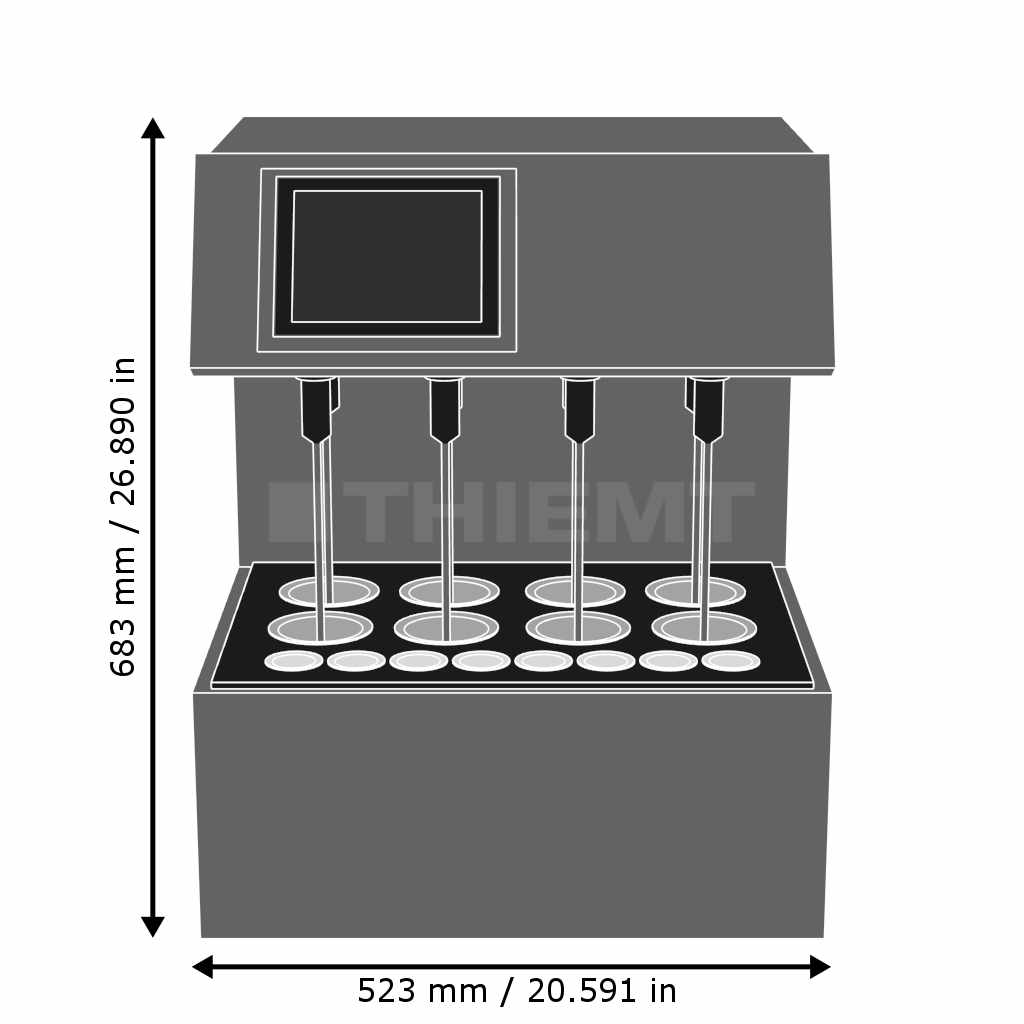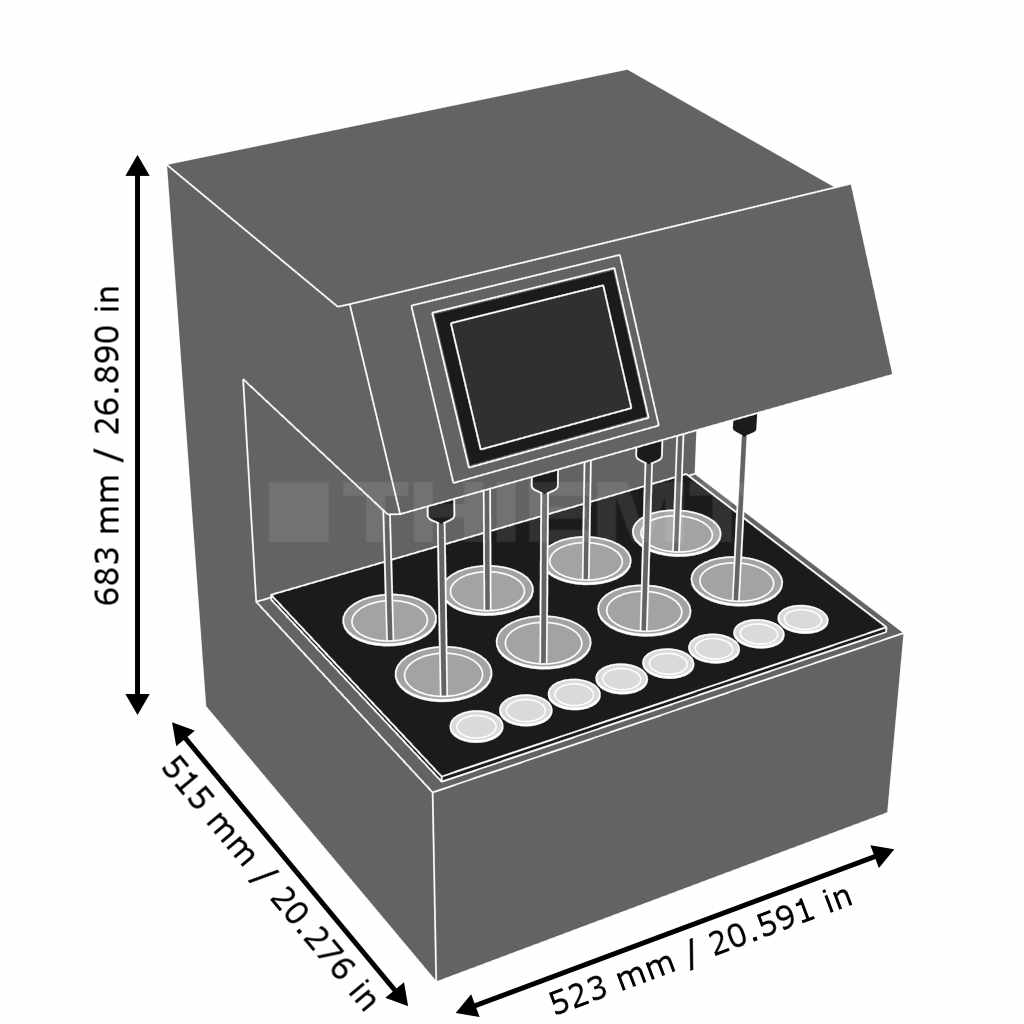 Order data
| Mashing bath TMB | |
| --- | --- |
| Mashing bath TMB eco | T100.200 |
| Mashing bath TMB plus | T100.201 |
| Spare parts | |
| 1 × Set (8 pcs) Congress stirrers | T100.073 |
| 1 × Set (8 pcs) Hartong stirrers | T100.072 |
| 1 × Mashing beaker | T100.036 |
| 1 × Glass cuvette | T100.039 |
Delivery scope mashing bath TMB
1 × Mashing bath TMB
8 × Mashing beaker
8 × Stirrer for Congress procedure
8 × Stirrer for Hartong procedure
8 × Glass cuvettes for dosing water (only TMB eco)
1 × Network cable
1 × USB thumb drive
1 × Set of tubing for water intake and outlet
1 × Manual2
2: When ordering please specify the required mains plug and the language for the manual.
| Packing details | |
| --- | --- |
| Delivery in wooden crate | |
| Dimensions | 700×700×900 (B×H×T in mm) |
| Weight | 108 kg |